The Macon Rhythm Section

When we built the studio in Macon, we expected to follow the model set by Stax in Memphis with Booker T & the MGs and Fame in Muscle Shoals with their rhythm section. Artists and Producers would come in to use our studio and our players. We did a lot of recordings this way including Livingston Taylor's first album, The Tim Harden Bird On A Wire LP, Irma Thomas, Eddie Floyd, Jeff Beck, and a lot of albums produced by Jerry "Swamp Dogg" Williams. But Capricorn Records was signing a lot of self contained groups such as The Allman Brothers Band, The Wet Willie Band, and Cowboy, and things began to go in a different direction. As more and more studio time was being consumed by the groups, a staff rhythm section was harder to justify, and they were disbanded. But it was these four guys and me for many long and fondly remembered days and nights the first couple of years.
Johnny Sandlin
aka "The Duck"
In the beginning Johnny was our drummer. He became Capricorn's vice president of A&R. He played bass on a lot of tracks, and also quickly developed engineering skills which have served him well in his career as a record producer working with The Allman Brothers, Bonnie Bramblett, Delbert McClinton, Elvin Bishop, Widespread Panic, Jimmy Hall, Johnny Jenkins, Dan Penn, Chuck Leavell, and many others. He now has his own studio, Duck Tape Music in Decatur, Alabama, (256) 355-4780. As far as I'm concerned Johnny's ears are the golden standard. Visit his web-site http://www.johnnysandlin.com/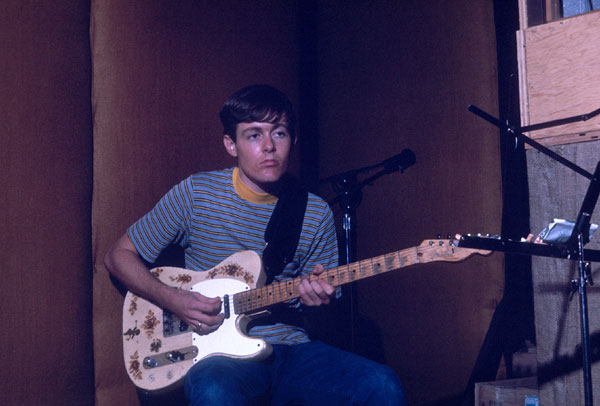 Pete Carr
aka "The Beaver"
Also from The Hour Glass, Pete Carr our guitar player moved to Muscle Shoals, Ala. after the demise of our rhythm section. He has done session work for Bob Seger, Rod Stewart, Barbra Streisand, and Paul Simon just to start the list that's too long for this space. Please visit his website http://www.playthatguitar.com/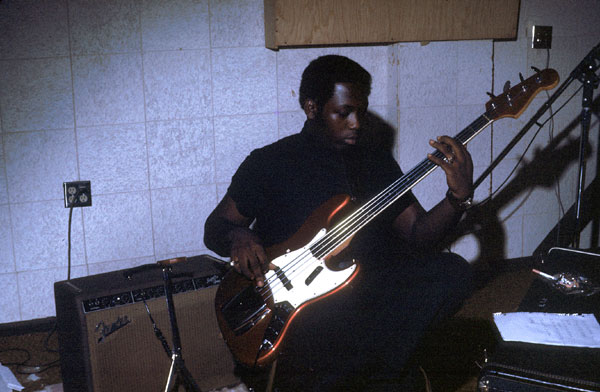 Robert Popwell
aka "Pops"
Robert was the only non Hour Glass veteran. After Capricorn no longer mantained a staff rhythm section, Pops joined The Young Rascals and later The Jazz Crusaders. His session credits are extensive. He now lives in Nashville, and we last visited when I was there working on The Dottie West Story. He can be reached at (615) 293-5513. Call him for your next session.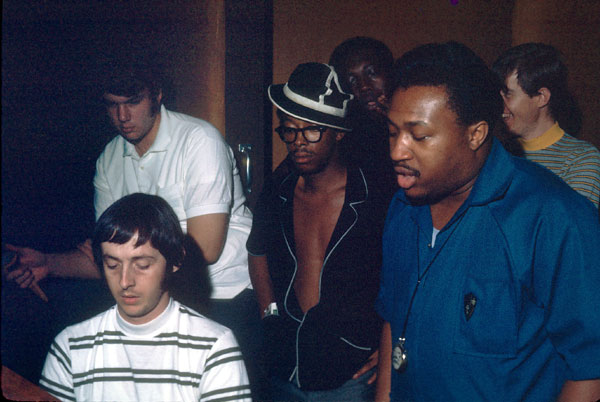 Paul Hornsby
aka "The Berry"
Paul, seated at the piano here, was our keyboard man. In this picture he is surrounded by the rest of the rhythn section plus "Little Tommy" in the hat and producer/songwriter Jerry "Swamp Dogg" Willams in the blue shirt. When the rhythm section ended, Paul stayed at Capricorn producing half a dozen hit albums with Marshall Tucker Band plus additional hits for The Charlie Daniels Band and other artist. Paul is the only one of us who still lives in Macon. He has MUSCADINE RECORDING STUDIO (912)745-2401. Visit his website http://www.mindspring.com/~songmaker/